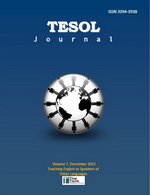 Full version pps 1-80 PDF
Foreword. Ariane Macalinga Borlongan
Article 1. Eduardo Borlongan. A Comparison of the Reading Strategies Used by Good Readers in Print and Hypertext Environments: Implications and Recommendations for the Improvement of Reading Instructions
Article 2. Joahna Mante-Estacio. Dimensions of Reading Motivation among Filipino Bilingguals.
Article 3. Fahad Al-Rashidy. Determining the Role of Hedging Device in the Political Discourse of Two American Presidentiables in 2008.
Article 4. Lina Tao and Rochelle Irene Lucas. The Effect of Age and Discourse Position Referential Adequacy on Filipino Bilingual Children's Oral Narratives in Mandarin.
Article 5. JooHyuk Lim. The Changing Bilingual Grammar A Quasi-Diachronic Investigation of the Syntactic Constraints of Tagalog-English Code-Switching Using a Grammaticality Judgment Test.
Article 6. Arianne Macalingan Borlongan, JooHyuk Lim and Rachelle Edito O. Roxas. University Students' Attitudes towards English-Tagalog Code-Switching in Classroom Instruction.
Article 7. Ariane Macalinga Borlongan. Reflecting on the Use of Code-Switching in Philippine Education Today.
Category: 2012